Main Page
From CNH Lake Catchments
CNH-L: Linking land-use decision making, water quality, and lake associations to understand human-natural feedbacks in lake catchments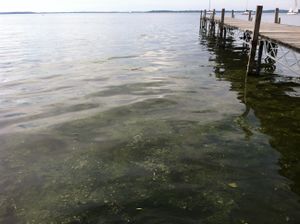 Worldwide, people benefit greatly from the irreplaceable services provided by freshwater lakes, such as drinking water, recreation, and fisheries. However, human activities in lake catchments contribute to eutrophication and the growth of harmful algal blooms that threaten the very waters upon which people depend. This degradation can generate incentives for behavioral change. For example, lake associations can initiate citizen-driven actions to protect and improve water quality. But will this action come in time? And will it focus on the key drivers of water quality?
This project examines the linkages between land-use decision making, fate-transport of nonpoint source pollution to lakes, lake water quality, the effects of water quality on property values, and the community responses that stimulate changes in land uses. In three lake catchments that vary in the intensity of agriculture, forested land and residential development we build the linkages from land use to water quality to identify the key drivers of lake water quality.
The insights from the three focal catchments will inform the understanding of human-natural system dynamics across thousands of lake catchments spanning the northeastern and midwestern U.S. An understanding of the relationships between and lake water quality and land-use policies will be leveraged to support science-based monitoring, advocacy and volunteerism to develop effective programs to protect and enhance lake water quality.
News & Project Events
Check out the Virginia Tech press release about the project at this link.
Important Team Resources

Contact us with questions or concerns about the project at cnhlakes@vt.edu.
Project Information
Our Multidisciplinary Team

(Left to right, back row) Pat Soranno, Hilary Dugan, Kevin Boyle, Mike Sorice, Joe Stachelek, Yu Zhang, Leah Fitchett, Armen Kemanian, Chris Duffy, Lars Rudstam, and Paul Hanson
(Left to right, front row) Kelly Cobourn, Aviah Stillman, Kait Farrell, Nicole Ward, Jen Klug, Weizhe Weng, Kathleen Weathers, and Cayelan Carey.
Photo credit: Cayelan Carey
This project builds on a strong collaboration among a diverse team of researchers from multiple disciplines and institutions, as well as citizen science groups. Our team's expertise spans the fields of freshwater ecology, environmental and resource economics, hydrology, and social science. Follow this link for a current directory of team members.
Research Objectives, Models, and Study Sites
See these pages for a description of:
Model Coupling
To capture the two-way feedbacks between humans and lakes, this project couples multiple models together. View our modeling input-output table at this link.
Research Products
Ongoing list of project accomplishments
Lake Association Partnerships
This project builds on an ongoing collaboration with our Lake Association partners in each of our focal lake catchments. These associations are civic organizations that engage in outreach and education within and among catchment communities. The lead for this portion of the project is Kathleen Weathers. More information on our lake association partners can be found at:
Acknowledgments
This work is supported as a grant from the National Science Foundation, Dynamics of Coupled Natural and Human Systems (CNH) program, award number 1517823.
MediaWiki Pointers
This site is built with the Organic Data Science framework, which is developed using the MediaWiki and Semantic MediaWiki platforms.
Here is a Quick Reference Guide for How to Use This Wiki Site.